Today I have a follow up to last week's The Great Dr. Pepper Incident.

A reader suggested to me that since the cost of that taste-tested Dr. Pepper was free, and since free is good, didn't all the no-cost make that nasty Dr. Pepper taste better?

And heck, my readers are brilliant, so of course I considered this to be a good point.

Then I decided to embark upon an experiment.

I would try other sodas in the for-free cooler and see how they fared in the "tastes better cuz it's free" hypothesis.

First up in my research was a Mountain Dew.

I decanted the Dew into a cup thoughtfully provided by my employers.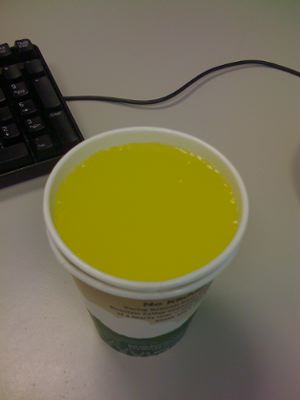 Now. Um. That's not a nice color.

That looks a lot like the last time I tried taking a multi-vitamin supplement. My pee turned that color. WHY IN THE HELL would I want to ingest something the color of vitamin-tainted pee?

That said, I forged ahead. I was able to get through a good deal of the Dew before I gacked out and had to pour it down the nearest drain.

Twenty minutes later, I remembered why, besides color, I don't drink frapping Mountain Dew.

The caffeine.

I had heart palpitations the rest of the day.

Yeah. Free. So not worth it.

Not one to be easily dissuaded...

...Or, as my father used to say, not smart enough to come in out of the rain...

The next day I plunged back into the challenge.

This time, I made sure I took on something caffeine free.

After checking the entire line of Pepsi products in the cooler, that left only Orange Crush.




Also, I'm going to have to say, that's not a color I'd generally like my food to be. Not even the orangest of foods, say carrots or pumpkin is that shade of neon orange.

It haunts me.

The taste was even worse. I couldn't get more than two sips through the Crush before it went right down the drain.

Experiment terminated. The lab rat can't take it any more.

Conclusion: Free doesn't actually make a crappy beverage taste better.

Sacrifice, all for the good of science.

Now I must go drink three gallons of water to get all that artificial color out of my liver.

Gah!