Do you ever have those moments in life where something happens that is just *so* quintessentially you? I mean, you can't deny it, just has "that's totally me" written ALL over it.

This happened last evening when I came home from work. I found two packages waiting for me. Items I'd ordered separately had managed to arrive on the same day.

And it was Karen-day a'go-go.

The first item opened was this: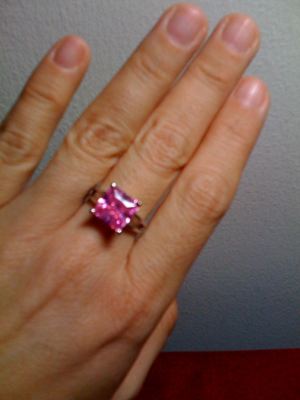 It's *fabulous*. A pretty pink CZ sparkler of a cocktail ring. I loooove cocktail style rings, the bigger, brassier and more obnoxious the better. Yes! I'll wear the rings others will eschew as "too big."

Plus! I got this one on a killer deal. I mean, an amazing sale at an already discounted site! This thing is full of fire and pizzazz and I totally have the outfit to wear it with this weekend.

Total girl-type "squee!" action when I opened this up and slipped it on and it winked at me and fit perfectly.

So satisfying.

Then, ready to move on, I opened the other package. And it was this: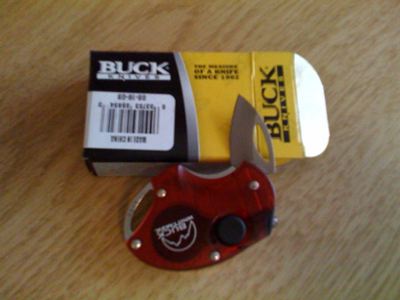 That there's my new Buck knife. Not the first Buck knife to come into my possession, only the latest. I bought one of this same model (in gray) for The Good Man a couple birthdays ago, and have been lusting for it since. Compact, fits into that 5th pocket you got in your jeans. Small but powerful blade. Love. It!

Plus, got it in rockin' red! Oh yeah, baby!

And as I sat there, giddy, with my new pink ring in one hand and my new Buck knife in the other, my loving husband remarked, "That's my girl!"

That's just Karen being Karen.