Such a simple idea, but such a good thing.

December 3 (that's tomorrow, people) is Blog Comment Day, 2008.

"Though there may be 100 reasons why people blog, I've yet to meet a blogger who doesn't appreciate comments." So says John Smulo about the idea.

The very easy rules:

On December 3, 2008 you will leave one comment on at least 5 different blogs.

Out of the 5 blogs you comment on, at least 2 of them will be blogs you haven't commented on previously.

And there you have it. As a former musician friend of mine used to say, "Applause is a musician's meal." For a blogger, comments are your applause.

Not a huge time commit, but a good thing all around.

Who's in? Go to John's page and leave a comment to sign up!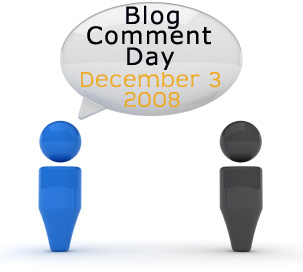 Thanks to Jamie Dedes for emailing me the link!