Like many bloggers, as I write my posts and maintain my blog, I often I look at other blogs for ideas, inspirations, or what not to do.

Like...I hate blogs that are riddled with ads running down each side and between every post.

Then again, there are some sites that do ad placement in a tasteful way.

I'm torn.

About six months ago, I began my first foray into ad placement on my blog by placing a small, unobtrusive Google AdSense on my blog. It's gotten a few clicks, nothing to write home about, and it's been a good experiment.

Recently, I was contacted by the folks over at Made In New Mexico about an opportunity to do some link sharing.

I took a long time to think about it, as I was unsure about going there.

What finally changed my mind was that in this case I'd be supporting a business located in New Mexico selling New Mexico based products.

Helping the economy in my home state matters to me.

I'd bought from Made In New Mexico before, based on their ads in New Mexico Magazine, and I was satisfied with the experience.

I decided to place a new order using my own money, so I'd have current experience.

I went to their online store, shopped around, and bought two things:

A New Mexico license plate notebook (I chose the old fashioned yellow and red, but you can also choose the balloon theme plate):


( It sort of tickles me that it's a trailer plate. Fitting for me, no?)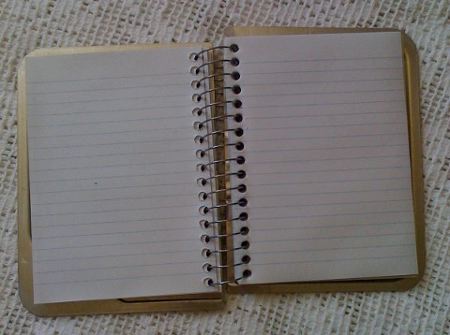 And a New Mexico flag (fresh outta the box, I need to steam the wrinkles out!):



The shopping was easy, the ordering process simple, and shipping happened the day after I ordered. Good stuff!

So based on a happy shopping experience and the kind folks who contacted me, you'll now see a small ad in the right sidebar. If you click that ad, it will take you to the Made In New Mexico store and they'll note that you came from my blog. If you buy, I might get a little something for it.

By the by, I wasn't compensated for writing this post. If ya'll buy some stuff, a couple sheckles might come my way. Mainly I'm happy to support a solid New Mexico business.

Thanks!