I have spent the past seven months watching my favorite baseball team, the San Francisco Giants, play incredibly imperfect (some say torturous) baseball.

I've experienced agony, ecstasy, and near ulcers but still I have watched because I'm a longtime fan. I've been there at Candlestick Park. I've been there at PacBell, SBC, AT&T Park. Heck, I've been there at Scottsdale Stadium.

Oh, I've been there.

I knew Tim Lincecum and Pablo Sandoval when they were playing for the farm team San Jose Giants.

Because I've been there, too.

And now...oh NOW that the team is getting coverage for making it to the National League Championship Series (NLCS) do all the politics and politicians come out in their shiny suits and gelled up hair to act like they've been there all along.

Our playoffs are their political opportunity.

Gah!

Baseball is not politics! Politics are not baseball!

The two don't mix because baseball has its own politics, thank you VERY much.

We don't need your stupid campaigning faces jack o' lantern grinning out of the stands, Ms. Boxer, Ms. Fiorina and Mr. Newsom.

I shall not vote for the lot of you!

And then....

There is the whole ongoing kefuffle regarding the BART policeman who shot an allegedly rambunctious BART rider in the back.

The case and the video footage from that day are a highly sensitive and a very concerning issue for the Bay Area for a lot of reasons.

The case went to trial. The jury made a decision. The case is pending sentencing.

So now both sides have decided to take their personal issues to the baseball game by painting banners, attaching them to sailboats and setting sail for McCovey Cove.

You know, McCovey Cove, famous for all the boats, pontoons and kayacks sailing about when Barry Bonds played for the Giants and regularly dunked homeruns in the water?

McCovey Cove, famous for Friday "Beer Can Regatta" sailboat races.

McCovey Cove, that beautiful body of water that sits next to my beautiful ballpark and helps make it one of the most unique sporting locations in the world.

As the Fox Sports cameras seek out something to focus on as we cut to commercial, the cove is always a favored spot, owing to the beautiful views.

But this week, the cameras take in the "Free Mehserle" or "Justice for Oscar Grant" signs, and our own problems here in the Bay Area take precedence over the baseball game.

It's a game. Just a game. It's supposed to be fun.

How about I think about politics and other difficult issues when the season is over, ok?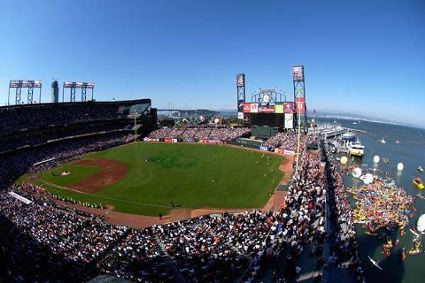 (McCovey seen to the right in this photo of AT&T Park)

Photo From 22Gigantes