On March 15, 2007, Arnold Vigil wrote an article in the
ABQjournal
titled
"To Mix, or Not Chiles?"
(terrible grammar, by the way.....).
In this article, Mr. Vigil discussed that the New Mexico State Legislature, currently in session, is contemplating a "State Answer" to the "State Question" which was established on the books in 1999. The state question, as most natives already know, is "Red or Green", asked by wait staff in restaurants and referring to which type of chile you want on your eats.
The proposed State Answer is....get this..."Christmas"....referring to wanting both.
Ok...I don't want the state answering for me. Mainly because I never order both. But also because that answer is dumb.
None of my friends order both. We are confirmed green chile fans. Hell, I know a few folks from Hatch and other spots who contribute their crops to the state's supply of green chile. Plus, I like the taste of green better. Red chile is usually left out in the field too long and roasted too long and it takes on a bitter flavor. Bitter is NOT what I want on my huevos. No, a nice smoky green chile is the stuff of life. Red is okay. I'll have it on enchiladas sometimes...nice on carne adovada, of course. But I'm a green girl and most of my buddies are too.
And if we did order both, we'd say both. I think I remember one time at Gardunos when I was a kid, my dad ordered both, but he said "both". No self-respecting native would say "Christmas" or even more schlocky "Navidad". Ugh!
As New Mexicans, sometimes I think we shoot ourselves in our own feet by giving over to scholcky and silly. Actually, a lot of that comes from, I believe, people who moved to NM...but moved there like 20 or 30 years ago and fancy themselves to be natives. No.
Maybe a turista can giggle and feel so "in" by ordering "Christmas" on their burrito. The waitperson will bring it to them. And all will be fine. But those of us from there originally will roll our eyes at the ridiculousness. I guess coming from there you have to learn to give over to some of the silliness. If I can endure Nelson Martinez on the news and then endless commercials for his Mariachi band, schlocky content set on "extreme", then I can handle my own freaking legislature catering to the inane.
Hey, this may be a north vs south thing. Maybe up North they say "Christmas" with frequency. South of the Sandia Casino, no self-respecting New Mexican would give in to that.
And I have to be honest...I'm a little tweaked that the Legislature thinks they can answer the age old "red or green" question for me. If this passes, does this mean everyone has to have both all the time? Oh the horror at the thought! My mouthwatering Chopes chicken enchiladas with a fried egg on top, smothered in green and *gasp* bitter ass red? NO!
I don't want this to pass! I don't want this answer on the books! I'm outraged!
Who is the lobbyist that can best represent the interest of us the few, the proud, the hungry!??! In the name of Sadies and Gardunos and Nopalitos I DEMAND that I be given a choice! My choice!
Don't let the government dictate your combo plate!
"Christmas"...fer chrissakes...forcing an answer in un-American.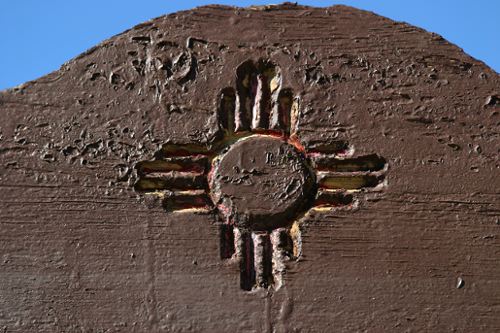 Photo by Karen Fayeth