Hanging in the ladies room at a restaurant where The Good Man and I eat quite a bit is the below:

It is "Gli Italiani si Voltano - Milano - 1954" by Gianni de Biasi.

The title means, according to BabelFish, "The Italians turn themselves".

Here's the poster (click for a large version)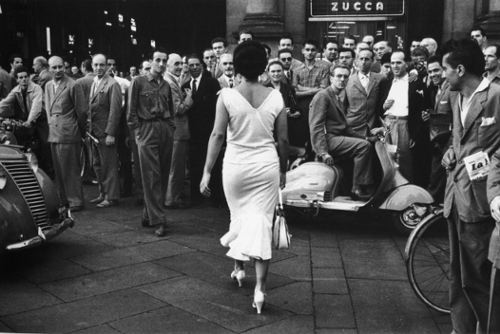 I am utterly fascinated by this photograph. I first started looking at it closer, because my best friend and I are talking about a girl's trip to Italy next year.

We've all heard the stories, right? Is this what Italy is all about?

I have no idea the story behind this photograph, but along with being totally can't-take-my-eyes-off it intrigued, it also scares the hell out of me.

It's so...visceral. The look on the faces of all the men... You are pretty sure you know what they are thinking. And she, dressed in white, little Red Riding Hood plunges, fearlessly, into the pit of wolves.

The guy to her left, with his bottom lip tucked into his teeth TOTALLY thinks he's got a chance. I mean, that dude is pretty sure he's going to score. Which makes me hate him.

The guy to her right on the scooter looks skeptical. Perplexed. Dare I say, scholarly? For that reason, he's the one I'm into. I'd choose him.

I have no idea who the woman is or what she looks like from the front, but my god, that kind of male attention is both craved and rejected by women.

How can she be so confident walking into that? Does she possess the certainty of a truly beautiful woman? Is she actually terrified but hides it well? Is she an Italian woman and thus used to ignoring this kind of stuff?

It conflicts me. I'm not a feminist. It doesn't make me angry like "she deserves more respect!"

But I'm also not an old fashioned gal either of the "boys will be boys" fey sort of excuse making.

I can't quite cipher out what it is that gets to me about this photograph. But oh, it gets to me.