It was seventh grade. She was Mrs. Olivas. Typing teacher. A rail thin Hispanic woman with long black hair, parted down the middle, a sour face and an even sourer disposition.

(sourer doesn't sound right, but Word grammar checker told me that "more sour" was incorrect...so let's roll with it)

Mrs. Olivas taught my brother, well ahead of me in school. She taught my sister.

And then she taught me.

There we all sat, trembling, at the keyboards of electric typewriters distributed about the classroom. Eyes forward. No looking at your fingers!

Mrs. Olivas would wander the room, shouting letters like a drill sergeant. We would type what she shouted. In unison our keys would strike the paper.

My sister had warned me, with her accent, her "v" sounded like "b" and vice versa. And she graded harshly when you got it wrong.

Mrs. Olivas taught us that after every period ending a sentence, you hit that space bar twice.

End a sentence, space twice, start the next sentence.

One space looked too crowded. Too hard to tell where one sentence ended and the next began.

Two spaces.

No questions. Don't ask. Two spaces.

I follow this great lady, Debbie Ridpath Ohi, on Twitter (her screen name is inkyelbows). She is a writer and creates spot on comics about and for writers.

So imagine the shock and awe in my world when I read the following re-Tweet:

@inkyelbows From literary agent @Ginger_Clark "Authors: stop double spacing after every paragraph. It's unnecessary."

What?!? Sputter sputter. What!?!?

I say.....WHAT?!?!

Ok, to be fair, Twitter itself had me changing my typing habit. Why type two spaces when that takes two of the precious 140 characters? So I figured in the Twitter-verse, it was ok.

But in my regular writing? Stories, emails, blog posts. Can I stop?

Period-space-space is in my muscle memory! It lives in my cells!

Seventh grade was almost thirty years ago! If I don't period-space-space won't Mrs. Olivas come haunt me in my sleep like the La Llorona of the Smith Corona?

"Peerrrioood-spaaaaace-spaaaaace," she will howl outside my window!

I found this bit of explanation online: " It is generally accepted that the practice of putting two spaces at the end of a sentence is a carryover from the days of typewriters with monospaced typefaces."

So to do a period-space-space is something of a throwback. It marks me as "old school." Someone who learned to type on an actual typewriter.

Ok, fine. I'm trying. Every day I'm trying to retrain my obstinate thumb to only tap that space bar once. Just once.

It's tough! I still have to do a find and replace when I finish any document, including this blog post.

I'm too old to learn new tricks!!!!

Waaaah!

Oh, and:

The quick brown fox jumps over the lazy dog.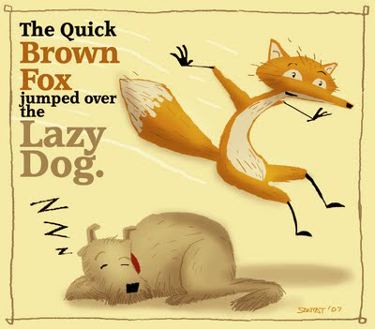 *apologies to Hank Williams Jr for bastardizing his lyric.


Coming tomorrow: "Three Grammar rules that are okay to break." My world is off its axis!