So finally I'm back on a plane headed westward to San Francisco which means home and my cranky Feline (who has been wreaking havoc in my mom-in-law's home).

The trip to Vegas was a good one. The Good Man's business was conducted, we ate some great food and even took in a Penn & Teller show at the Rio.

But as with every trip I take to Vegas, I'm done. Yup. She wears me weary and it's time to get back to the place and get to where I can live normally without the ching-ching of a slot machine as my background music.

I did get a chance while visiting to take a look at the old Vegas that I remember (and sometimes yearn for).

While the Neon Museum's boneyard is closed for construction, they do have a few beautifully restored signs installed down on Fremont street that you can visit.

Here are a few photos I took on my trip. I haven't sorted out all 350 photos I shot, but these are a couple of my faves so far. (click image to see full size)

Vegas Vic, an icon of early Las Vegas history when he was the image often used by the Las Vegas Chamber of Commerce.

This comes from high atop the Nevada Hotel Sign.



The orginal lamp from the Aladdin Hotel and Casino. I remember this one well. It was like seeing an old friend.




And finally, the Hacienda horse and rider from the original Hacienda Hotel and Casino. I also remember this one. It's been beautifully redone!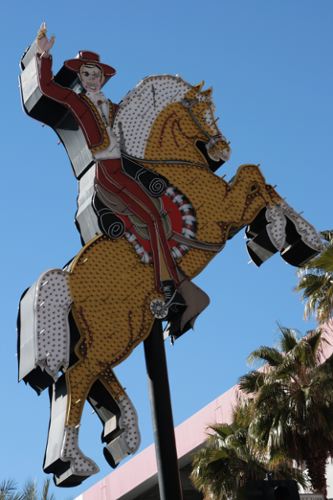 There may be more to come as I sift through what I got.

For now, I'm ready to be home.

Oh, and as a final thought...how cool am I? I'm blogging from thirty thousand feet in the air. WiFi on airplanes, what a cool concept! (Go Virgin America!)