So things are going to have to change up a bit here on the ol' blog.

Ya see...I started a new job today.

After ten successful months of consulting work and being my own boss, I agreed to be owned by a corporation once again.

It's a good job and a good company and this morning, nervous and anxious I burst out the gate, excited and ready to run.




This after I spent my last five days having a blast in New Mexico with my best friend in the whole world and two other good pals. Since my girlfriends are all teachers, this was a last hurrah for them, too.

A chance for us to act like kids before it became time to act like grownups.

Among other things, we hit the town of Ruidoso, NM and painted it red.

For my non-New Mexico readers, Ruidoso is known for, in this order:

1) Horse racing
2) Skiing
3) A preponderance of Texans

This weekend, the horses were fast, skiing non-existent and the place was crawling with Texans. An almost $900,000 purse for race number nine, the Rainbow Futurity, brought them out in droves.

I didn't manage to take home any of that fast flowing cash, by the by.

After the races, some dancing got done. There might have been some "adult beverages." Lots of cussing and discussing was also accomplished.

Yesterday, worn down with that good kind of tired, I came home to get ready to go to work. I had to pull the work clothes, dust off the cobwebs and act like a professional.

As time marches on, my idyllic weekend in New Mexico will be like a distant memory.

How long before I'm running as fast as I can, falling ever more behind, quirted into submission?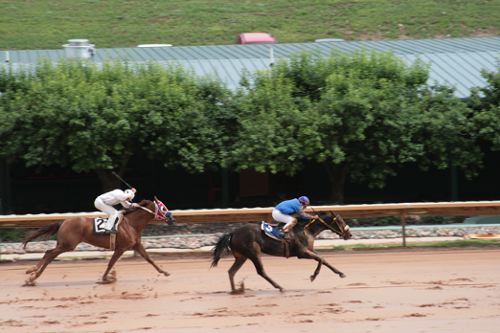 This being a grownup thing is a big load of horse hockey.


Life Imitating Art and associated images by Karen Fayeth are licensed under a Creative Commons Attribution 3.0 Unported License.