Going to get a little high minded for a Friday. I was presented with another blog post suggestion and this one poses quite a challenge. The assignment? A blog post sharing my top ten favorite works of art.

This is not an easy task. It is hard to come up with ten. It is hard to keep it to just ten. How does one choose from among all the works that touch my soul? Do I go with popular stuff? Do I go with less mainstream stuff?

And then, how does one find photos on the web that even come close to showing the magic of the work?

With much fussing and hand wringing, I've arrived at my list of ten. I'm sure the moment I hit "publish" I'll change my mind.

All but one of these items I have seen in person, and they stand out to me as show-stoppers. Items of art that made me step back, sit down, or stare transfixed (or all three).

Here we go, in no particular order:


Starry Starry Night by Vincent Van Gogh

Van Gogh is, hands down, my favorite artist. I blame this on a high school English teacher who introduced me to his work.

The stabbing, slashing paint strokes appeal to me, and his pain on display, even in a pretty painting of flowers resonates with me. When I saw this painting in person at the MoMA in New York, I cried. Not just wept a little, I bawled. I'd been seeing The Good Man only six months at that point and yet he didn't think I was weird. That *is* a good man.


Tree of Life by Gustav Klimt

This was a new friend I made at New York's MoMA. After crying my eyes out over Van Gogh, I didn't imagine I'd be able to learn to love any other art works that day. I was wrong. I'm not generally a fan of Klimt, but this painting was so engaging, it couldn't be ignored. I go back and look at it pretty frequently while online. There is incredible detail in every square inch of this work.


Masked Ball at the Opera by Eduard Manet

I saw this at the National Gallery of Art in Washington DC back in the late 1990's. I've found no photograph since that does the painting any justice. When you see this work in person, it's painted in such a way that you feel like you are at the party. You can see the folds and wrinkles in the clothing of the other guests. You smile, you frown. They smile and frown back. You are there, in the room, at the party. It's fascinating.

I stared at this painting for about an hour and still had a hard time tearing my eyes away.


Mourner Costume by Henri Matisse

I'm actually not much of a fan of Matisse's work. His torn paper work for which he's so famous rates only a "meh" from me. When I saw the permanent Matisse exhibit at National Gallery of Art it was mostly his paper works, so I walked through pretty quickly. I was about to leave when my eyes fell on this garment.

It's torn paper style done with fabric. In this photo, it looks sort of dull and unimaginative. In person, it's enchanting. The memories of this work of art have stayed with me for years. One day I'd love to try my hand at a cloth work inspired by this:


Dizziness by Iman Maleki

This is the only one I haven't seen in person. I found it via the Art Gallery app on the iPhone and I'm utterly fascinated by this painting. It's my wallpaper on the phone and I can stare at it and see something new every time. I feel some sort of kinship with the man in the work and I'm not sure why.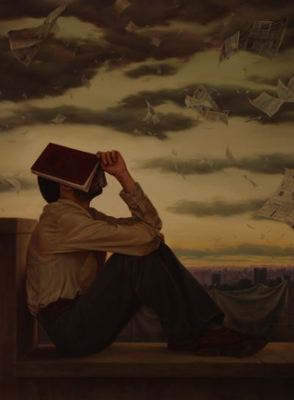 Los Dos Fridas by Frida Kahlo

It was hard to choose from among the Frida paintings as I love them all. In order to choose, I thought back to the exhibit of her work I'd attended at the De Young in San Francisco. I thought about the one work I spent the most time with. It was this one.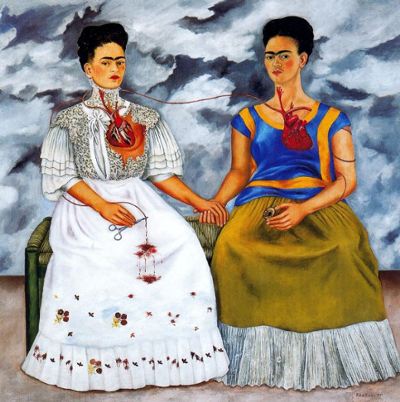 La Pistola y El Corazon by George Yepes

There are actually two versions of this painting, one completed in 1989 and one in 2000. It is the 1989 version that is featured on the Los Lobos album of the same name. Sadly, that painting, owned by Sean Penn, burned in a house fire.

George Yepes created a new version of the painting, however, the 1989 version is my favorite. It's darker and more intense. The second seems, to me, like only a riff on the original.


Room on the Verge by Patssi Valdez

I saw this work at the Chicano Visions exhibit at the De Young in San Francisco. The whimsy, the darkness, the movement of this work just drew me in. I sat down on the floor (no chairs or benches) and stared at it.

My fellow gallery goers looked at me like I'd lost my mind. I didn't care. I wished I had five more eyes so I could to take in more of this painting all at once.

It's gorgeous.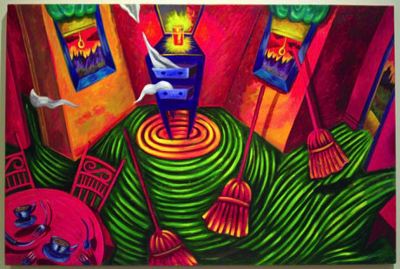 Jean D'aire, Burgher of Calais by August Rodin

I have an intense love for Rodin's work and it all speaks to me of hard work and sadness and endurance. I discovered this particular work at the Cantor Center for Visual Arts on the Stanford Campus and it's the one that sticks with me.

It was as part of a photography class that I was introduced to the Rodin Sculpture Garden, and I tried and tried to photograph the very serious faced Burgher. I have one photo that is pretty good, but it is only of his face. This photo shows the entire statue. He is the very definition of pathos.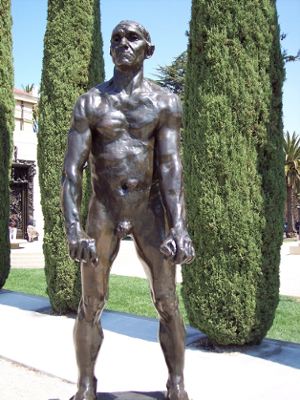 Rose and Driftwood by Ansel Adams

I saw this at an Ansel Adams exhibit at the Bellagio casino in Las Vegas. The Good Man was there on business for a trade show, so I entertained myself during the days while he worked. I'd seen a lot of Adams before I took in this show, but somehow this little work had escaped my notice. I walked by it the first time and did a cartoon head whip like "whaaaaa?"

I stood in front of it and stared and stared and got lost in the depth of the woodgrain. It's spectacular. It's a gorgeous simplicity that is so hard to accomplish.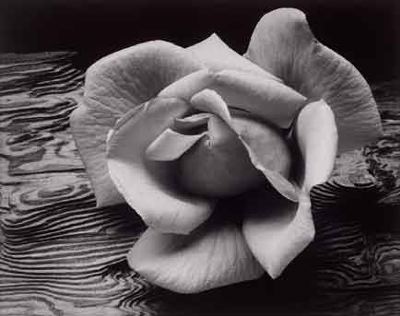 Whew...walking through all of this has left me exhausted. In a good way.

Now I need a nap and a vodka drink, not necessarily in that order.