Been going through some stuff in storage, pulling out the keepers, tossing the others.

But then, there are some items where it's hard to choose, stay or go.

I just unearthed a box full of my old boots. This is tough.

I don't wear most of these anymore. But I just can't bear to part with these dear friends either.

I just look at the worn leather...and I remember.

Like, my first pair of ropers.




I'd worn pointy style boots, but when I got to NMSU, all the folks there were wearing ropers. So of course, I needed some too.

I was about a sophomore in college, I think, when I went down to the Tony Lama outlet in El Paso to procure these babies. They are gray goat skin, soft and forgiving. I wore these a lot, as evidenced by the worn down heel.

These were my main everyday boots. I wore them dancing on the boards at Corbett Center. I wore them for my horseback riding classes. Covered in manure, I'd wear them up the hill to attend the business college.

The toes are scuffed all to hell. The pretty gray color job didn't hold up much under the dainty hooves of the insane mare I was assigned for a while in my riding class. She liked to step on feet. A lot.

Thankfully my gray boots were made for working.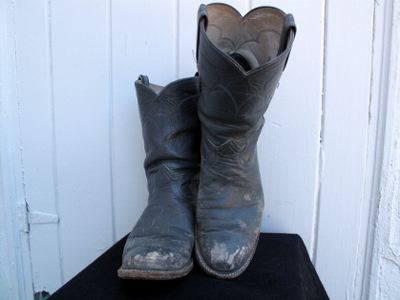 When my grays were starting to show some wear, I saved up and decided to get a new pair of boots. I wanted to try Justins this time and I wanted lace ups. I also wanted pretty. My gray boots were utility. I wanted flirty.

So I bought these very impractical pearl white beauties.




Man, I loved these boots. I started wearing these to dances and leaving the beat up gray boots at home. I almost never wore the pearls riding, except once, for the horse show I participated in (and won).

I got these pretties on the cheap, as you can see, they are marked "imperfect."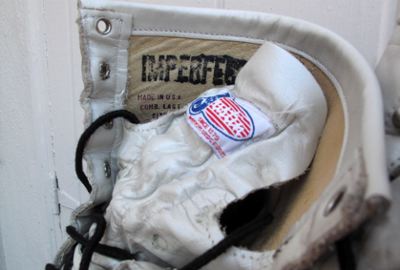 I'll admit the heel wasn't balanced quite right on the right boot, but I didn't care. They were roper perfection to me. These boots were made for flirting with cute cowboys.

Ya wanna know the best part about the fact that I still have these boots?




Look at the circle engraved into the leather sole. You know how you get a groove like that on your boot? By dancing, that's how.

The leather is cracked and the boots are worn out, but they are still utterly gorgeous to me.

And then, after college, and on to work. That's when I went back to Justin and bought these guys:




I wore these to work a lot. The soft rubber and not-leather sole was easier on my feet, especially the time spent on the shipping and receiving docks. That concrete is hard on the legs, but these babies are comfy and they look good.

And the leather...oh, the leather just ages so beautifully.

These boots were made for my first real job out of college. They helped me make the transition.

I might actually pull these back out and find another chance to wear them. They are delicious.

And finally...we have these.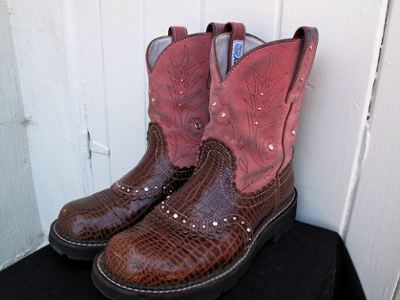 This is what I'm wearing now, my beautiful Ariat Fat Babies. These boots went to see the Merle Haggard show recently. These boots get a lot of compliments every time I wear them.

Right now, these boots are packed tightly in my suitcase that, by the time you read this, will be tucked in the cargo hold of an eastbound airplane.

If I'm lucky, I might get these boots out on a dance floor in Southern New Mexico on Saturday night.

Cuz these pretty pink rhinestone boots? These are made for dancing.