Lord knows, I've been prone to giving over to a deep, hearty kvetch about living here in the Bay Area, and these marine layer weather patterns this Flower of the Desert must face.

Ok, fine, I own it.

However, today, I'm here to say that all the wet weather actually *does* have some benefits. Occasionally even *I* can find a place of gratitude for all of that goddamn rattin' smattin' essential rain.

See, The Good Man and I are renters, and as such, aren't required to take care of our yard. Good thing, too...cuz we'd have grass a mile high.

My landlord and his son do yard work that's mainly limited to cutting the grass every few weeks and chopping down nice trees that never did nothing to nobody. But that's another story.

So over on the side of our humble abode, we have this:




It may be hard to see, but that's a little spindly tree.

I mean...it's pretty sad. Look at this puny little trunk: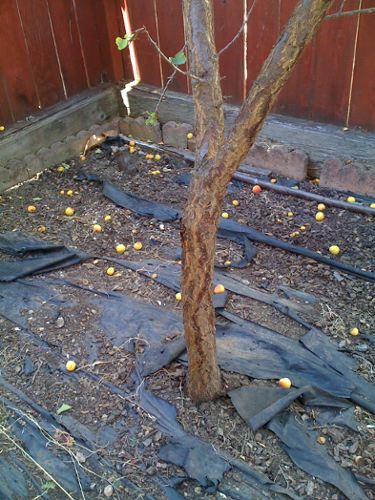 What you should know about that little tree is that no one really does much of anything with it. We don't water it. We don't prune it. We hardly look at it. It's just "that tree" over by where we store the trashcans.

I've occasionally photographed the tree when it puts on white flowers, working on my macro skills. But other than that, it goes totally ignored.

Well. This year, the little tree that decided to get noticed.

This year, that son-of-a-gun put on a crapload of fruit. Apricots.




I've lived here five years. That tree has never, not once, put on fruit. It would flower, halfheartedly, but that's it.

For some reason, even in a fairly dry Bay Area winter, that little spindly tree got enough water and sun and nutrients to fill its skinny little boughs with fruit.

Wow.

And it's tasty fruit too! VERY delicious. Boy, I do love a good juicy and tart apricot in the summertime.

I remember my college roommate's mom would put up a fantastic apricot jam...that she'd serve on top of homemade biscuits. Oh my.

So ok, I whine. I jump up and down. I tantrum. I complain that I am a convection-cooled device (a human swamp cooler) finely tuned to the high desert and cannot possibly be expected to properly function in this humidity.

Then I bite into a ripe, juicy apricot and I think, "Hey, all that rain is not so bad!"